What we wear
We let some interesting people, that are also Movesgood enthusiasts, tell us a little bit about what inspires them, where they get energy from and why they love Movesgood. Please enjoy the read below.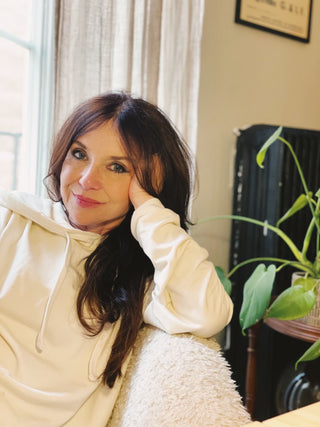 Annika Jankell
TV Presenter/Journalist
This is Annika. Her big inspiration is curious and creative people with a lot of passion and humor. Music is also a big inspiration "There is music for every mood and situation". She also gets very inspired by mother earth - to hang out in nature.

Annika's high energy comes from good breathing, rich inner life, and choosing to see the good in people. "You'll get what you give". Yoga is a shortcut to get good energy!
Annika thinks bamboo lyocell is amazing on her skin! "It's the softest fabric I've experienced, I just love it!". She thinks it's impossible to choose one favorite in the Movesgood collection but right now she lives in the Sweatshirt Hoodie and Sweatshirt Trousers! "It melts on my body".
Annika is quite easy to please, she's trying to remind herself that she's surrounded by happy pills such as a big loving family, fantastic friends, good health, a job that I love… What else could you ask for?
Annika is doing her best to save the planet, she recycles and eats a lot of clean and green food! She's also trying to take the train when she's traveling.
To relax she's practices yoga almost every day, walks a lot, listens to music and tries to hang out with her beloved ones as often as possible!
Keep it up, Annika! Cheers!


Shop Annika's Favorites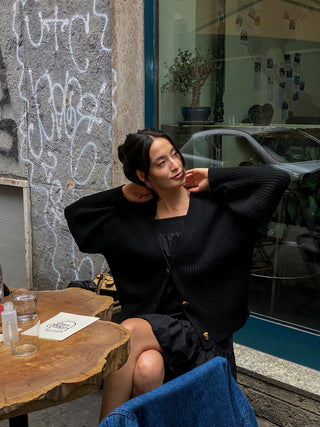 Hanna Fridh
Model
This is lovely Hanna. She is inspired by creative people, traveling, her work and people on the street. She also gets inspiration through art exhibitions and museums. In order to relax she loves to put on a sheet mask, jump into a hot bath, listen to podcasts and discover new beaches.

How do you get that extra energy? We asked her." I like to do yoga and meditation. Just lay on the mat for a little bit after you're done with your workout and relax and let your mind drift off".

Hanna likes Movesgood because "the quality is really amazing and once you start wearing bamboo and feel how it allows your skin to breathe in a whole other way, it's hard to go back to the other stuff."

What is your favorite Movesgood item? And why? "That's a hard one but I think I'll have to say the Rib Knit Cardigan. I've been using it so much lately and it's really cozy. It's just a piece that every one should have in their wardrobe. My boyfriend also loves it and steals it all the time."

To help the environment, Hanna recycles, tries to buy most of her things second hand and make more sustainable choices. She also doesn't waste food and buys fruit and vegetables by season. She travels a lot in her work so she tries not to fly as much when she doesn't need to.

What makes you happy? "It's so boring to yet again talk about the pandemic but it really has made me enjoy the more everyday things and I appreciate the day-to-day life so much more. The first cup of coffee in the morning, that we are healthy and happy; when the sun is shining and you can take a dip in the ocean or spend time with your loved ones. So much got taken away from us during this time so I'm mostly happy with everything we can do now.

Well said, Hanna! We agree!
Shop Hanna's Favorites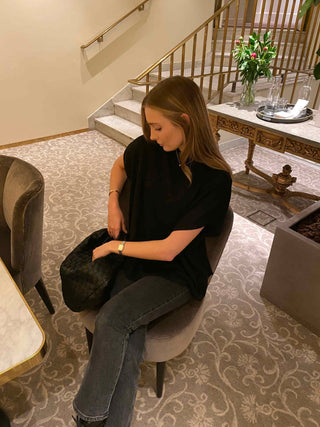 Filippa Ahnhem
Influencer
This is Filippa. Filippa is inspired by all the wonderful people she has in her life, especially her boyfriend who makes hard things look easy. Traveling is also a way of inspiration. For happiness she turns to her group of people, works out and lives a healthy lifestyle.

How do you get that extra energy? "If I need to cheer up I put on an episode of "Friends", it always makes me laugh. For extra energy my first go-to is Matcha tea and a workout.

Why do you like Movesgood? "I always wear basics and one thing that I admire is the comfort that Movesgood offers. The clothes are also sustainable, which is a big plus for me.

Filippa's favorite piece of clothing at Movesgood is the Thin Knit Hoodie. "It's the perfect hoodie for summer in a lightweight cashmere and bamboo blend. It's has a perfect brown shade that goes with everything in my closet- I wear it all the time, to a workout or just a cozy night in."

To help the environment, she recycles, tries not to over-consume clothing or other things. She also reuses and resells her clothes.
When she feels like relaxing she puts on music, makes herself a cup of tea and writes in her journal. "It's someething I don't do very often but appreciate every time", she says.

Go, Filippa! Well done!
Shop Filippa's Favorites